Preparing to Bring Staff Back From Furlough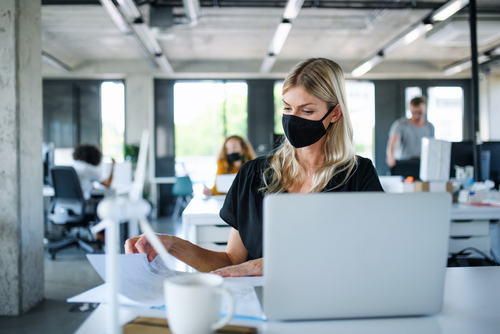 The government's furlough scheme, officially known as the Job Retention scheme, has been a lifeline for businesses across the country. It was extended until the end of October, which suddenly is only around the corner. It's been a tough few months, and many employers will have brought in certain measures, like working from home, for the very first time.
With October nearly here, it's time for businesses to start dealing with one of the final stages of the challenge; bringing people back off furlough. If you're starting to think about this, here are some helpful answers you might be looking for.
How much notice should you give staff?
There is no set period set by the government of how much notice you should give your staff for returning to work. In other words, you can decide this for ourself, providing you give your staff enough notice to be able to make the date set.
It's important to talk to your furloughed staff about what's required of them upon their return, and any issues or difficulty they might have. Once you have agreed on the details, it can be helpful to confirm by letter or email.
Which members of staff should you bring back first?
You may wish to bring back staff in a particular order over the coming weeks, as you continue to assess the operations of your business. Consider organising the return of your staff based on business needs. It's important you don't discriminate against anyone when making these decisions.
It's also important to make sure that by bringing staff back, you can still follow social distancing guidelines and keep everyone safe.
What if a furloughed employee is considered vulnerable?
There may be some of your furloughed staff who are considered to be high risk or vulnerable. You should carefully consider your options, such as whether they are able to work from home or if their working hours could be adjusted to avoid the busier times in the workplace?
You might also have staff who live with a vulnerable person, and they might be worried about returning. It's key that you have carried out the necessary risk assessments to make sure these staff feel confident and safe to come back.
What if you struggle to afford to bring all your staff back?
A lot of companies are still not back to where they were before the pandemic hit, with many businesses experiencing losses in revenue and cashflow. Unfortunately, redundancy is a huge reality of the furlough scheme coming to an end. If you feel like you may struggle to bring back everyone from the scheme, it's something you might have to consider.
There are other options, such as reducing working hours and salaries, or removing bonus schemes in order to help the company save enough money to bring everyone back. It's important to look at your options carefully before making any decisions.
If you do need to make redundancies, have a read of our blog on how to manage redundancies in the workplace.
Back to blog
---
Attic are great people to work with, they were very sensitive to our needs and able to find exactly the right person for our team now, and for our future ambitions. I recommend them to any 'creative business' and for anyone who needs intelligent and talented staff.
Niche Architectural Practice