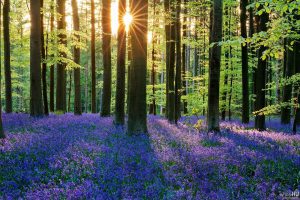 What nicer way to welcome Spring into our lives than with beautiful bluebells in a forest. The leaves on the trees are gathering pace, the blossom is out, the sun is starting to shine more and thank goodness at long last, we are starting to see business returning to London. Apparently over 60% of the workforce are now travelling again in London, the tubes are certainly busier and we are happy to report lots of nice new roles are starting to come in.
We have a few interesting recommendations and updates for you below and in the meantime if you do read this newsletter a word from me. At times over the last 20 years, recruitment has not felt like a particularly brilliant area to work in, as some have assumed wrongly that we are all about cold calling, pushy sales, bums on seats at whatever cost. At Attic we have always striven to give a more consultative service to both candidates and clients. We don't cold call, and consultants do not work to crazy targets.  As I have mentioned before it has been a very hard year for recruitment and we've had to make some tough decisions. We have had to say goodbye to our West End office and reduce our numbers. Just one personal bugbear, please can I ask you to respond to us when we call or email, even if it's to tell us you have found a role. No one likes to be ignored and we are interested in long term relationships so even if we can't place you now, we may have the perfect job in a couple of years.
I wish you all a  good week, please send us your news please send us your ideas and of course we have a picture of Bob 😊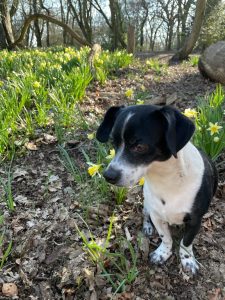 ---
Empowering Instagram Accounts to follow for Daily inspiration!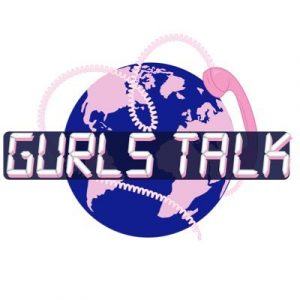 Social media can breed all sorts of negativity, but it has also given us platform to connect and spread positive messages of self-love and self-worth. We've picked our favourite Instagram accounts whose posts never fail to give us a confidence boost. While also celebrating International Women's day these feel-good accounts are also run by women, giving their feed and content a feminine perspective that we always appreciate. While this day may only happen once a year, that doesn't mean it should be the only day you toast to yourself and the amazing women around you.
Hit follow on the accounts below for your daily dose of motivation and female-empowerment!
@femalecollective – Female Collective is a place "where women are celebrated, uplifted, supported, and empowered every day." This page features self-care reminders & inspirational quotes on self-love, growth and mental health. Founded by activist Candace Reels aims to celebrate and empower women!
@makerswomen – Makers Women tells real-life stories – both insightful & relatable – of female change makers. From film snippets and interview clips to inspiring quotes and funny memes, this page offers meaningful posts that will ignite your inner potential.
@girlboss – It says it right there in the name! Girlboss celebrates powerful and influential women, not just in the financial sense, but also social workers, volunteers and so on. Their organisation hosts talks and workshops for women all over the world while their Instagram feed is super uplifting while being aesthetically pleasing. We love their quotes from women for women as well as their oh-so-relatable memes that will 100% make your day!
@Rapikaur_ – Rapi is a well know poet & author whose poetry speaks to such a large audience, especially women as it is both empowering & deeply relatable. Her words send a positive message of self-love, growth and self-pride.
@gurlstalk – Founded by model Adwoa Aboah, Gurlstalk provides women of all ages a safe space to share their stories and encourage women to speak out on any topic they wish whilst providing a female support system in the form of their followers. Gurls Talk will guarantee an insta-feed full of inspirational quotes, talking points and all things female-solidarity.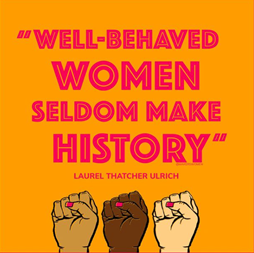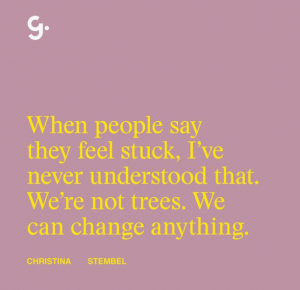 ---
Jobs of the Week!
£35,000 – £50,000 (depending on experience)
Amazing opportunity for a highly educated, highly talented and highly motivated Private Executive Assistant. To do well in this role, you will already have experience working with the Elite of London and will understand the nuances of dealing at this level. This is a such an unusual opportunity and needs someone with drive, discretion and a genuine understanding of working in the HNW space.
Up to £32,000 (plus commission)
A charismatic, hardworking, and experienced sales professional needed to join a rapidly growing finance media company in the city. This highly successful boutique start-up are a close-knit team of dedicated professionals, who are looking for an ambitious and likeminded individual, ready to take the next step in their career.
If you are looking for a new role, please update your CV now with a member of the Attic Team, we can then have you ready to go and fully updated for when roles come in. We need to know what industry you are wanting to go into, the type of role, salary expectations, notice period.
Of course if you want your details removed, please also contact us and we will update the system.
Email us – info@atticrecruitment.co.uk. 
---
Team Questionnaire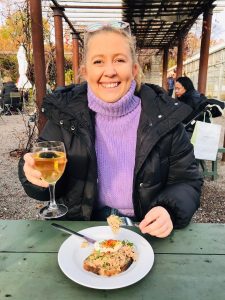 Favourite account to follow on Instagram & why:
Secret London – @secret.london always has the best tips of what's going on around London, very foodie centric which is always a winner for me.
Top 2 things you want to do when lockdown ends:
A food tour of all my favourite restaurants in London.
Get back to the spin studio!
(should probably have mentioned my friends and family in there also, food first.)
Top inspirational quote:
If you have good thoughts they will shine out of your face like sunbeams and you will always look lovely. – Roald Dhal
Guilty pleasure of lockdown:
Below the Deck – I would genuinely hate to think how many episodes I have watched.
Favourite current job available with Attic & why:
Dubai based EA – Super exciting opportunity to join a fast growing business at a pinnacle time and the opportunity to relocate, who wouldn't want to move to the sunshine right now.
---
Beauty Recommendation!
This week's beauty product is the Skin Perfecting 2% BHA Liquid Exfoliant from Paula's Choice. When that breakout hits this product is an essential for your skin care armoury! Ideal for blemish-prone, oily or combination types, this non-abrasive formula is laced with BHA salicylic acid to remove dead skin cells both on the skin's surface and within the pore. Combined with its anti-inflammatory properties, this helps to reduce blemishes and blackheads for a more clarified complexion. With a fluid toner-like consistency, the formula sinks easily into skin. Clearer complexion here we come!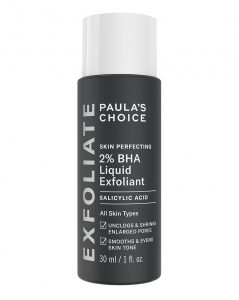 ---
Kara-age fried chicken with Cha-Han Japanese fried rice & Sautéed Pak Choi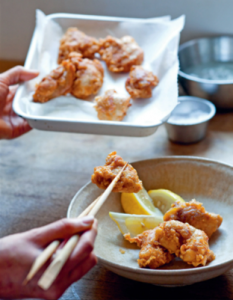 INGREDIENTS
Cha-Han Rice
2 bowls pre -cooked rice (cold).
2-3 eggs
2 tablespoons Oil
1 leek (white part finely chopped)
½ tablespoon soy sauce, plus extra for drizzling
½ tablespoon fish sauce
Pinch salt
½ tablespoon sake/dry sherry
Kara-Age Chicken
500g Boneless chicken thighs or breast.
Oil for deep frying
1 lemon – wedges to serve
Marinade:
1 egg
1 garlic clove grated
2cm/3/4 inch ginger, grated
1 tablespoon sesame oil
11/2 tablespoons soy sauce
1 teaspoon demerara sugar
5 tablespoons potato starch (cornflour as substitute)
1 teaspoon cinnamon
Freshly ground pepper
To dip: Sweet chilli or mayo
Sautéed Greens
Pak Choi or cabbage
Oil or butter
Chilli flakes
Salt & pepper
Method
Kara-Age – Cut the chicken into 4cm/11/2in pieces. Combine all the marinade ingredients in a bowl. Add the chicken and mix well. Leave to marinate in the refrigerator for at least 30 minutes (or overnight).
Aperitivo! – Make a cocktail or pour a glass.
Cha-Han – Break the eggs into a bowl and mix well. Heat a wok/frying pan on a high heat and add tablespoon oil. Pour in the beaten eggs and stir roughly to scramble. When they are softy set take off the heat and put aside.
Kara-Age – Stir the marinade and chicken again well before frying, as the potato starch tends to settle on the bottom of the bowl. Pour a 5cm(2in) depth of oil into a large saucepan and heat to 170oC on a medium high heat. Or until it sizzles when you drop in a crumb! Carefully add the chicken pieces with their marinade and cook for about 5-6 minutes, turning regularly, until nicely browned and cooked through. To test, pierce a piece of chicken with a fork: if the juice comes out clear, it is cooked. Remove the chicken from the oil and drain on paper towel. Squeeze over some lemon juice and serve immediately.
Cha-Han – Before frying the rice, use your hands to break up any clumps into more or less separate grains. Place the same wok used for the two eggs on a high heat (if the pan is a small one fry the rice in two batches otherwise its texture will be very sticky). Add the remaining oil and when the pan is quite hot, add the rice. Fry the rice, stirring and turning over constantly with a spatula. Once the grains are coated with oil and well separated, add the leek and the eggs. Continue to stir on a high heat, adding the soy sauce, fish sauce, salt and sake until everything is heated through. To finish, drizzle a little more soy sauce down the sides of the wok, so the rice is well flavoured with the caramelised sauce.
Greens – Split the leaves of the pak choi or shred the cabbage. Heat oil/melt butter in a pan, toss in the greens and some chilli flakes and cook.
---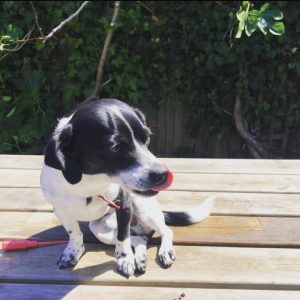 Hope you all have a lovely weekend!
Love from Attic Team & Bobby 
If you are looking for a new role, please update your CV now with a member of the Attic Team, we can then have you ready to go and fully updated for when roles come in. We need to know what industry you are wanting to go into, the type of role, salary expectations, notice period.
Email us – CV@atticrecruitment.co.uk
Sign Up Now
This is a great time for us to update all your details on our system.
Do get in touch if your situation has changed regarding what you are now looking for, alternatively let us know if you are no longer looking and would like your details removed from the database by emailing info@atticrecruitment.co.uk.